Jan 24, 2023
Solution-Focused Therapy for Trauma
While seeking trauma counseling near you may be overwhelming at first, it's a decision to be proud of and a process that takes time. You may be unsure where to start or what to expect, but the right clinician will guide you through it one step at a time. In solution-focused brief therapy for trauma with Delia Counseling Services in Washington (or online in Florida), clients receive support and care that empowers them to identify and utilize inner strengths to make the practical, sustainable changes they want for a less distressing, healthier future.
What is Trauma?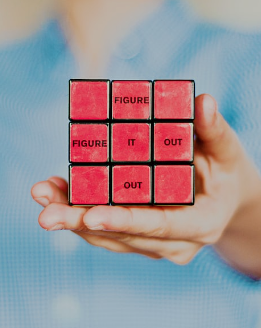 Trauma is a response to a deeply distressing or disturbing experience. It can affect an individual's physical, emotional, and psychological well-being, and can have long-term effects on their functioning and sense of self.
Everyone reacts to trauma differently, and the severity of the trauma does not always predict the intensity of the response. Some people may have a strong and immediate reaction to a traumatic event, while others may have a delayed or more muted response.
Unfortunately, some traumatic events and the feelings associated with them can stay with us and cause or exacerbate any anxiety and stress we experience. When trauma manifests as feelings of fear, shame, embarrassment, guilt, depression, or other forms of emotional pain, it can make healing from and coping with an incident difficult. When negative thoughts and emotions linger long after an incident, a person may ask themselves questions like, 'do I have PTSD?' or 'should I try trauma counseling near me?' This blog reviews why seeking trauma counseling can be beneficial, as there's hope for you whether your traumatic experience occurred recently, many years ago, or caused you to have PTSD.
What Happens in Solution-Focused Brief Therapy for Trauma?
Solution-focused brief therapy (SFBT) is a psychotherapy form influenced by positive psychology. It follows a strength-based approach and views clients as experts in their lives, motivating them to look within themselves for solutions to their mental, emotional, behavioral, or interpersonal problems. For individuals seeking providers of solution-focused brief therapy for trauma in Yakima, Washington (or online in Florida & Washington), a search for 'trauma counseling near me' will direct them to Susan Delia Counseling Services.
Many people may think therapy sessions are just for discussing what's wrong with their life and what needs fixing. However, solution-focused brief therapy encourages clients to look at the aspects of their lives where things work. It asks clients to use their inner strengths to keep things working, and envision a viable future of healing, wellness, and peace. SFBT emphasizes finding practical solutions in the present and exploring future hopes. It makes counseling safer for clients who have experienced trauma, as it doesn't require them to relive distressing, embarrassing, or painful feelings and events.
Solution-focused brief therapy sessions for trauma are safe, collaborative spaces to have honest, realistic, encouraging, and gentle conversations. Clients receive the respect and support they deserve in these sessions. They'll feel more hopeful and motivated to:
Identify and learn to use the inner strengths and resources they possess
Think of an ideal future of healing, wellness, and less stress
Discuss this desired future with the clinician
Recognize and replace harmful behaviors that prevent them from making their desires their reality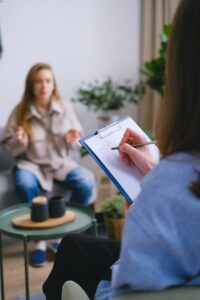 Benefits of Solution-Focused Brief Therapy for Trauma
SFBT's divergence from traditional psychotherapy methods of analyzing problems can benefit people dealing with trauma, anxiety, depression, low self-esteem, and more. The idea that the past and present don't have to determine the future can be empowering and give many people hope that they don't have to stay stuck in painful circumstances. This therapy form can be beneficial because:
Treatment is quicker than more traditional psychotherapy. SFBT consists of less analysis of past problems and more action-taking and looking ahead than other therapy approaches. Spending more time focusing on resolutions and actions instead of just thoughts allows clients to gain positive clinical outcomes in less time and fewer sessions.
It cultivates the type of growth mindset clients need to overcome trauma. When your problems become your focus, you can become stressed and obsessed over them. This can stunt your ability to decide how to solve them and create positive change effectively. Solution-focused brief therapy for trauma techniques motivate you to shift your mindset and view problems as opportunities to learn and take action. A growth mindset and belief in your abilities and capacity to change can lead to more optimistic problem-solving, enhancing personal growth and healing.
Start Solution-Focused Brief Therapy for Trauma Counseling Near You
If you're been searching for "trauma therapist near me," and you're located in Florida or Washington state, reach out to Susan Delia, LICSW, when you're ready to be intentional and open yourself to new possibilities and changes for the better. You'll receive support and care that empowers you to recognize helpful solutions for enhancing your emotional and mental well-being. In our sessions, you'll receive goal-directed, future-driven guidance that improves your quality of life and motivates you to look ahead and keep your past from taking control of your present and future. Through CBT, trauma healing is a focus of Delia Counseling Services. Reach out today to get started.
---
Delia Counseling Services provides quality CBT (Cognitive Behavioral Therapy) for anxiety, depression, grief and loss, relationship concerns, and life transitions. Susan Delia serves therapy clients online in Florida and online and in-person in the Yakima, Washington area, including zip codes 98902 and 98901 and beyond.